Paper io | Conquer the largest territory | Free Download |
If you had fun playing games such as Worm io, Slither io, and Agar io, you might also like the Paper io game! This game is also a 2D arcade game where players are thrown into a massively multiplayer arena and compete for space. However, unlike Sliter and Agar io, Paper.io is not technically an eat or be eaten game.
The goal here is quite different, though it also requires you to get bigger – or occupy a bigger space! The goal for every player on Paper.io is to conquer and own the largest territory on the game. Creating your domain is simple. Just navigate your colored square around a white (empty) area, and it will be yours! Your territory will be distinguished because it will be in the same color as your square.
But, that's not the only thing that you have to worry about on Paper io. You have to expand your territory in the broad arena, and you also have to make sure that other players cannot get inside and steal your domain! This matter means that you have to be on guard all the time, or else you will lose the game. If you need to know more about the game and the strategies that you can use to become better at it, just read on!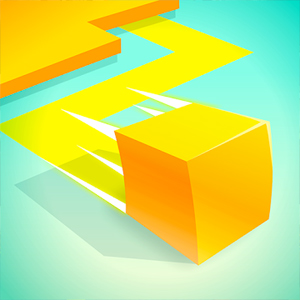 By
VOODOO 
| 64 downloads
Conquer More Territories and Defend Them As Well
Creating and conquering territories for yourself on the Paper io game is quite easy as long as you can quickly navigate around the arena. The arena is also quite big enough, and there is usually some space for you to create a rather generous territory. Defending a small territory is easy, but that duty becomes more challenging as your domain grows.
Unlike other games wherein you can form armies to protect your kingdom, you are on your own on Paper.io! This thing means that you cannot rely on anyone to patrol and guard your territory. You have to do it personally. Every other player is an enemy. They are just waiting for the right time to steal your domain. So if you are not guarding your territory well, this allows other players to steal them.
Also, You can do the same against other players too! Stolen territories are just one of your problems. Another major thing you should be watching out for is how to survive longer in the game. Other players can kill you off at any time. They can do this by disrupting your trail if the territory owner clashes with you while you are trying to steal (or inside) their territory. You can also get killed when you fail to connect your drawing line to the bolded base. So on top of anything else, you must also avoid those three pitfalls.
How to Get A Good Start on Paper io Game
If you want to have a great headstart on Paper io online, start with smaller squares and trace your lines frequently to keep off opponents. If you can make your way towards the corners, that's better. There are lesser opponents near the borders, and you can claim lots of space as your territory.
Moreover, it is best to avoid creating long trails throughout the game because this only exposes you to enemies. Killing other players will also give you a bonus in terms of points, which may help you climb the leaderboards. Also, it gives you a clear opportunity to reclaim their territory as your own.
Compete with Thousands of Other Players Online
Paper io online allows you to play against AI or real players from different parts of the world. The rankings are not territory owned but defined on scores. Plus, this thing is why you have to kill other players at least now and then. This thing gives you great bonuses that can help improve your ranking. On the other hand, you don't have to be too conscious of your score, and if you are ranking well, a crown will show up on your square.
Also, if you're looking for a game like Paper io, to play, you can have a glimpse of the Agar io game! Download and enjoy playing a different kind of match with your friends!
Play Paper io Unblocked For PC!
Paper.io is initially for mobile play, but you can also enjoy this new io type game on your PC today! Download Paper io unblocked version for PC to get started on your quest towards becoming the largest landowner and conqueror in a massive 2D multiplayer arena. Playing the game on the PC is an excellent option if your mobile device is running low on storage space and RAM. It gives you an advantage in navigating your square, and in preventing game crashes and lags that will usually make you lose the game.
If you're not yet satisfied, you can search for some of the best arcade games online like Bottle Flip, DC: Unchained, Keep it alive, or Pick the Gold! There's a lot of stuff to discover! After all, it's your call to select the best game to play whenever you want!
Game Features